So I had my playlist on rando one day, and this classic started bumpin', so here's today's Music Monday spotlight! Yes they know they are white, and they fucking rip. Jokes on you sucka! I still remember how my mind was fucking blown when I found that out back in the day too don't worry (see Chapelle KKK episode with exploding head)! They were in my opinion ahead of their time, don't think anyone appreciated the umm..."irony"? Fuck man, Kanye would have did a song with them by now!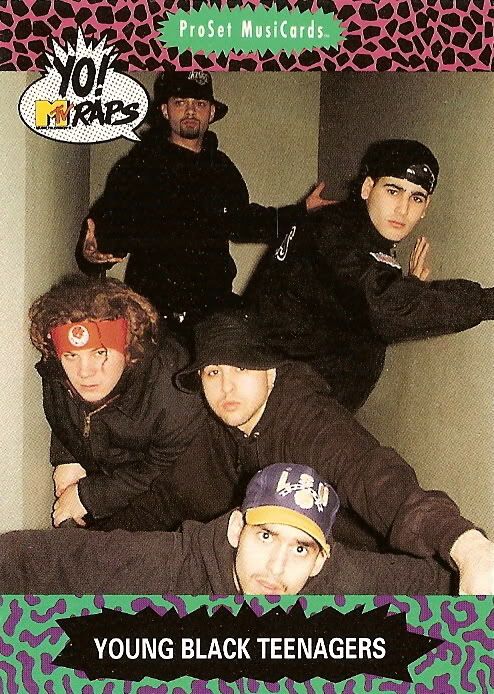 Young Black Teenagers (YBT) was an early 1990s American rap group consisting of Kamron, First Born, ATA, Tommy Never, and DJ Skribble. They intended their name as a tribute to the black culture they were influenced by, but some thought their name offensive or ridiculous. YBT had the support of the prominent rap group Public Enemy and their producer Hank Shocklee signed them as the first act of his label Sound of Urban Listeners (SOUL).
Their debut album Young Black Teenagers (1991) featured the singles "Nobody Knows Kelli" (about the character Kelly Bundy from the sitcom Married With Children), "Proud to Be Black", and "To My Donna" (an attack on Madonna for taking the rhythm track of the Public Enemy song "Security of the First World" for her single "Justify My Love"). After the first album, Tommy Never inexplicably left the group, and YBT became a foursome, with A.T.A. contributing more vocally. Their second album, Dead Enz Kids Doin' Lifetime Bidz (1993), featured the song "Tap the Bottle", their biggest single. The band did gain some publicity (albeit not necessarily positive) for the song "Time To Make The Dough Nutz", as it contained a sample of Rush's 1981 hit "Tom Sawyer", angering many devoted Rush fans, even though YBT insisted it had been meant as a tribute. After "Tap The Bottle" became their only worldwide hit, YBT called it a day in 1994.
DJ Skribble worked for MTV for several years as an in-house DJ. He currently owns a car customization shop called 'Skribble's Auto Spa' located in Queens, New York. Kamron (Ron Winge) along with ATA (Rodney) previously ran a music studio in Roosevelt, New York and produced hip hop tracks. Kamron works with the Marksmen now producing tracks for video games and prominent musicians. He also played the role of Jamal in House Party 2. He also DJ's at clubs in New York City. A.T.A. (Rodney) is a manager and a clothing entrepreneur. First Born owns and operates a tattoo shop in Brooklyn, New York called Ringleaderz Ink. He is rumored to be a relative of former Non Phixion MC Goretex. Tommy Never worked with Clivillés + Cole in The S.O.U.L. S.Y.S.T.E.M. after leaving YBT. He now runs a wealth management firm in NYC.
Wikipedia you are the best
Bet ya didn't know all that shit now did ya? They had a few more hits here and there, but obviously none as hype as Tap The Bottle. Nevertheless this was on some dope Onyx type steez, which makes it better than 80% of the shit out today. And for that, Young Black Teenagers, you can still rock a fucking party & you are Creep Street Approved! Even you, white boy with dreads!
Ghetto Revival Hallelujah Hollaback!